We had a long day with sessions on:
Component Tasting
Dry German Wines
Wines from New Zealand
Italy: Sourthern & the Islands
The component tasting was very interesting as a way to "re-calibate"
the palate and to know the ways to benchmark customers as to their
wine preferences.
We tasted through a series of wines starting with a baseline Pinot
Grigio followed by the same wine spiked sequentially with oak,
ethyl alcohol and sugar. Alcohol and sugar worked in a similar
manner to build-up the basic, thin, acidic wine. These additions
both gave a fuller mouth feel and the oak added complexity.
We learned a way to quickly triangulate the preferences of wine
drinkers by finding out what non-alcoholic beverages they
drink – coffee, tea or cola, and if they use cream and/or sugar
in their coffee or lemon in their tea. Wine preferences tend to
follow the same patterns.
Erstes Geaches (Dry German Wines)
Tim Gaiser and Frenando De Luna presented the session and made a
hard topic manageable. But, the Germans are great at making things
highly technical and complicated…..they are no different with
wine. Dry German wines are particularly hard to understand and
(other regions should take heed) this is one reason why sales
of German dry wines in the USA has been quite limited.
My personal rule of thumb for German wines has always been –
When in doubt, select the German wine with the longest name!
After today, I think this rule actually works!
This is all too complicated – It is not a path that any wine
region should take.
Recommendation: Gunderloch Rheinhessen from the Rothenberg
Vineyard 2007 – A Wow-wine for about $18 a bottle,
Wines from New Zealand
Josh Reynolds moderated this session and we tasted through four
Sauvignon Blancs and four Pinot Noirs.
New Zealand has been the model for success in a new wine
producing region. They have effectly retooled our perceptions of
Sauvignon Blanc. New Zealand winemakers have addressed the changing
palate in the USA from the Euro-centric "meat & sauce" days of
1960's to the 2000's spice-driven world cuisine. New Zealand
Sauvignon Blancs fit this niche. In wine name association….
Sauvignon Blanc now goes with New Zealand.
The new challenge, however, is to address what will be the next
varietal. They are working hard on Pinot Noir.
+++++++++++++++++++++++++++++++++++++++++++++++
Texas Two Sip Blind Tasting
The Texas Department of Agriculture Wine Marketing Program was
present and provided a series of side-by-side blind tastings of
Texas and non-Texas in several types of wine to attendees at
the Texsom 2008 conference. By and large the people that I
talked to that participated in this "challenge" were pleasantly
surprised as to what they have right here in their "backyard".
Of particularly interest were the Texas wines made from
Mediterranean varitals such as Viognier and Sangiovese. The real
stumper here was the Tuscan style wine from Texas.
I have actually held a similar blind tasting for the Italian
American Chamber of Commerce in Houston. The particular Texas
Tuscan used here at Texsom also baffled the Italians in my
tasting, as well. It has a partricularly old world Italian style
that makes for a wonderful drink. I have also pulled a "fast one"
on the Houston group with a Texas Pinot Grigio. This wine actually
got them arguing in favor of the Texas wine as the "Italian wine".
++++++++++++++++++++++++++++++++++++++++++++++++
Italy – Southern and The Islands
A panel of Italian wine specialists was assembled and presented
a sampling of wines from southern Italy.
This area is another success story for a new region, but in a
different light. Go back only a few years and this area was not
even covered in the leading wine books and publications (sounds
like Texas). But this region's claim to fame is based on a
multitude of indigenous Italian grape varietals. They offer new
rustic yet modern wine styles to titilate the palate.
An example is Re Manfredi Aglianico del Vulture, Basilicata
Deep ruby red colour with a complex bouquet of cherry,
aromatic Italian herbs. The taste is full bodied and
distinctively different with a carry through of the spice.
Definitely not your father's Merlot.
How to make Rose…..NOT!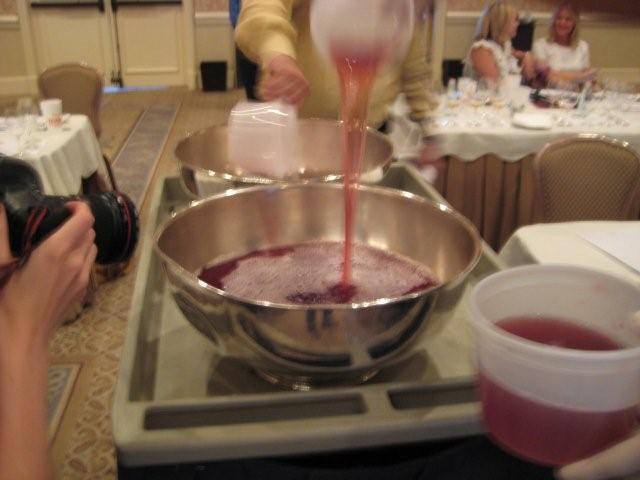 Texsom 2008 was a great success….Lets go home.