Texas Icons – The Aulers of Fall Creek Vineyards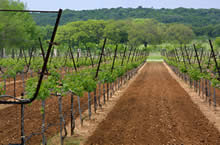 Texas is noted for its icons (people, places and
things). Its iconic people helped forge Texas
into a unique spot in the Universe. This is
particularly true when applied to the
visionaries that fashioned Texas into the 5th
largest wine producing state in the short
period of about two decades.
Two of these true, larger than life personas the
true husband/wife team of Ed and Susan Auler at
Fall Creek Vineyards in the Texas Hill Country.
In retrospect, Ed and Susan Auler basically
did what many said just couldn't be done.
There accomplishment was to make the Texas home
to vitis vinifera (classic European grape vines)
and produce premium wines from the "Tex-sun"
ripened fruit.
Texas seems to just have had a natural affinity
for the grape. Before settlement by Europeans,
the Indians harvested the native grapes that
grew plentifully around the creeks and bayous
from all around Texas.
Then, over 400 years ago, the Spanish
missionaries in Texas cultivated the hearty
"Mission" grape to produce sacramental wines.
Stephen F. Austin, the land empresario who was
well known for turning a good word, said
"Nature seemed to have intended Texas for a
vineyard to supply America with vines".
However, it was not until well after the end
of prohibition, only about 25 years ago, that
Texas really gave birth to a true commercial
wine industry based on the classic European
varietals – Chardonnay, Riesling, Cabernet
Sauvignon, Merlot, Syrah, etc.
But, it was not an easy labor. There was no
"text book" on grape cultivation in Texas.
Many said that it just could not be done….
The heat, humidity or soil just wasn't right,
or there were too many "critters" and diseases
that would render the vines into dry sticks
in the hot summer sun.
But, there were a few people of vision like
the Aulers who took a bold stand. If any one
can lay claim to the title the "Texas Robert
Mondavi" it is Ed Auler.
According to Ed Auler, "It all started on a
trip to France. I was looking to import French
breeding stock for our heard of livestock
near Lake Buchanan.  During the trip, Susan
wanted to visit the French wineries as well."
Ed continued, "After a few stops, standing in
the vineyard at Clos De Vougeot, we realized
that the French countryside really did not
look much different than the land we had in
the Texas Hill Country. For the rest of the trip,
we probably spent more time at wineries than we
did looking at livestock. Well, at that point,
our destiny was sealed."
Without a Rosetta stone for Texas wine in
hand, the Aulers did the next best thing –
Ed hired their first consultant, Andre
Tschelistcheff who was the famous Beaulieu
Vineyard winemaker and oenological consultant. 
Then, Dick Arrowood (of Sonoma's Chateau St.
Jean and Arrowood Vineyards fame) invited the
Fall Creek vineyard manager to work a few
harvests with him. Arrowood, the maverick in
Sonoma, made his name coaxing classic varietal
wines from the more established viticultural
areas.
Others that came to the aid of the Aulers in
their quest included "gold medal" winning
authorities such as Chuck Wagner from Caymus
Vineyards, and Jack Cakebread.
Susan Auler related, "The first thing that
these people taught us was that a venture in
the wine industry was both labor and capital
intensive!" 
She described their experience….
"We talked to those who have had experience
in our hot weather climate who told us
25 years ago…plant, experiment and then
you will become the experts in your region.
Well, we learned everything from below the
ground on up – the ins and outs of root
stock, the devastation created by Pierce's
Disease, and the havoc of a hard Texas freeze
or even worse – hail!"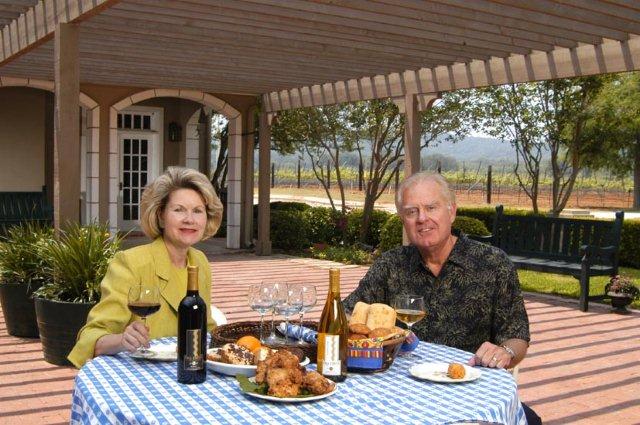 The Aulers of Fall Creek have proven for the
Texas Hill Country what many are just now
finding out in parts of Italy, south western
France and Spain. That is that Chardonnay,
Cabernet, and Merlot do surprisingly well when
taken out of their conventional growing regions
and familiar Terroir. These classic varietals
often take on different, fruit characters and
exotic, even tropical nuances. 
Much of what is now just emerging in the Texas
Hill Country started from the pioneering work
that the Aulers did back in the 1970's.
Currently, there are over 160 wineries all
around the State of Texas (Wow!) and over 3700
acres of grape in cultivation.
Maybe, the visionary words of Stephen F. Austin
are finally coming true.
The Aulers have seen vast changes take place over
the period of about 25 years. These include the
establishment of appellations (called American
Viticultural Areas – AVAs) around the state.
Ed Auler was instrumental in getting the Texas
Hill Country recognized as an AVA that could
produce premium wines. Texas can now boast to
having seven unique AVAs including the Texas
High Plains, Escondido Valley and a few others,
including the newest – Texoma – bordering on
Texas' "northern shore" on the Red River.
Fall Creek Vineyards also played a key role
in advancing the recognition of Texas as a
premium wine producing state by having their
Texas wines do well in the early 1980's in
national and international wine competitions.
Fallcreek has also worked to have Texas wines
served at prestigious events nationally and
internationally, including the Inaugural Ball
for President Bush.
Susan Auler has been a tireless leader in
forging links between the wines of Texas with
the unique Hill Country cuisine. She provided
visionary leadership that began what is now
the SAVEUR Hill Country Wine and Food Festival,
one of the foremost food and wine events in
the United States. She also had her hand in the
Wine and Food Foundation of Texas, a non-profit
organization that recognizes and rewards those
whose leadership, talent and skills have made
an impact on the culinary and viticultural arts.
Ed Auler has been active in the legislative
arena by helping to draft state legislation
allowing wineries to produce wine in dry areas,
salvaging the right of wineries to have direct
sales to customers in tasting rooms around the
state, and working for passage of a recent
constitutional amendment to put all wineries
in Texas on a level playing field regardless
of their location.
Susan said, "When we first started,
Cabernet Sauvignon was the major red wine,
but today the emergence of "Mediterranean"
varitals like Syrah, Sangiovese and Viongier
has created huge new markets."
Susan also acknowledges the changes in the
consumer makerplace, "Twenty years ago 75
percent of wine was purchased by men in
package stores. Well, today 75 percent of wine is
purchased in grocery stores a majority of which
is now purchased by women. This later point is
particularly important since it makes
attractive and creative packaging and informative
labels an important factor in our sales effort."
Continuing to evolve their family business,
Ed and Susan have been joined by their son, Chad.
He has been busy creating a new brand and
marketing stategy that will take the business
to the next level.
According to Chad Auler, "Our wines are
especially made for consumers who continually
look for unique, quality, and exciting wines
at reasonable prices in the global marketplace.
Wine should be fun and part of a healthy
lifestyle, which our branded products convey".
In closing Ed said, "At Fall Creek, we have
gained a lot of technical information over the
years. But, some general winemaking principals
have been established that seem to hold just
as true now as before: The use oak in almost
all wines, but in many cases using it
sparingly; use of appropriate amount of tannin
extraction in red wines by shortening skin
contact time to result in pleasing, clean
wines; and finally, never underestimate the
positive impact of blending, even in small
amounts."
These are now guiding principals that enhance
the consumer experience of the wines produced
both at Fall Creek and other wineries around
the state.