Are you Hungary for Wine? The Tasting….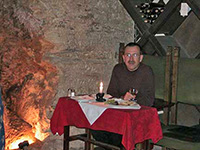 The Faust Wine Cellar was the remarkable
setting for my candle lit tasting of a
collection of Hungarian wines described
below:
Budai Sauvignon Blanc (London Wine Magazine,
Gold Medal Winner) – This wine had lush
fruit intensity that equals the style of
New Zealand with herbal and citrus aromas.
The taste was a rush of grapefruit and crisp
acidity in balance with the fruit that lingers
on the palate.
Ergi Cserszegi Fuszeres – A cuvee from one
of the premier producers including local
white Hungarian varietals combined with
Chardonnay that produces an initial floral
character reminiscent of rose or jasmine. The
taste is light with no apparent oak aging
making this wine a superior accompaniment to
another Hungarian specialty – the Pike Perch
from Hungary's lake district.
Mitraaljai Muscat Ottonel – This was a medium
dry white wine with a honeysuckle nose
that led to a pleasant mandarin orange
quality on the palate obviously obtained
from its Muscat parentage. This wine had
a quality made for sipping and enjoyment
while basking in the dim candle light and
shadows of the primeval cellar.
Weninger Sporoni Kekfrankos – A lush local
varietal, Kekfrankos translates to
"Blue Francs" which was true to the
appearance of the grapes which are vibrant
blue in color that hang in loose bunches,
round and blue, yielding a deep dark
powerful wine. It had a fruit-driven,
herbal nose carried by the power of the
high alcohol content of the wine leading
to blackberry flavors.
Taker Szekszardi Bikaaver – This was truly
a traditional style Hungarian wine comprised
of Kekfrankos and another local varietal,
Kadarka, but fortified with a touch of
Cabernet Sauvignon. The nose was driven
by the Kadarka which includes aromas of
toasted oak followed by jammy, fruity,
dark flavors with a peppery rustic
quality.
St.  Gyorgy – Hegyi Cabernet Sauvignon –
This organically produced wine, while
young, was very approachable with soft,
yet substantial tannins giving this wine
a silky black current character. In advance
of actually tasting the wine, it yielded
an interest combination of flinty highs
and smoky, earthy lows to the nose.
Drink young and enjoy.
Tokaji Azu Kiss Istvan (6 puttonyos)– This
"Wine of Kings" was poured in small portions
so to savor its incredible golden, liquid
qualities. It was the product by late
harvesting after the grapes are attacked
by Botritis Arylis (Noble Rot), a mold that
forms on the grapes causes the water to
escape, leaving the flavors and sugar.
The wine had a golden honey color and a
thick,silky, viscous mouth feel. The aroma
was suggestive of roasted hazelnuts leading
to a sweet honey, caramel flavor that is meant
to be savored, lingering for what seems to
be ions between each taste.