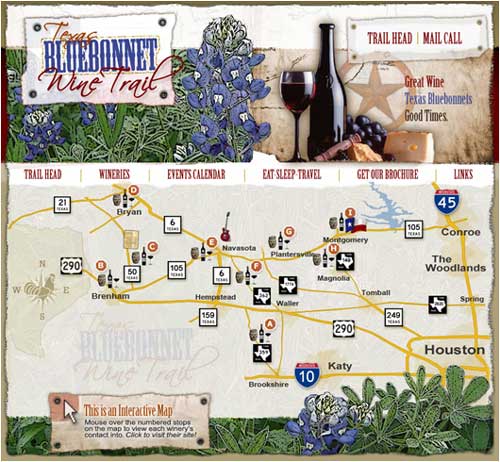 Bluebonnet Holiday Wine Trail – A Frosty Yahoo to Y'all
If there are any bluebonnets tomorrow, they will likely be frozen icy blue. The prospect for the Saturday morning temperature is in the mid-twenties. Burrrrrrrrrrrrr! But, die hard Texas wine aficionados don't let a little cold weather stop them to riding the wine trails of Texas.
I plan to join the die hards tomorrow (Saturday, December 5th). Check out the details below and I look forward to seeing you at one of the participating wineries.
Get a jump start on your holiday gift giving by touring the Texas Bluebonnet Wine Trail, Holiday Trail on December 5-6, 2009 and December 12-13, 2009. You have four days on two consecutive weekends to use your ticket. Purchase a single trail ticket or a ticket-for-two and for each ticket, you can each enjoy a glass of specially-selected wine, paired with a terrific holiday food sample at each winery on the trail. As an added bonus, have your ticket stamped at four participating trail wineries and receive the first commemorative holiday keepsake crystal wine glass. These 24-ounce Pinot Noir glasses feature the Texas Bluebonnet Wine Trail logo. This holiday trail package, worth almost $70 per person, is yours for the low single ticket price of $30 or ticket-for-two price of $45, plus tax. Click here to purchase your tickets online: http://www.retreathill.com/store/index.php?main_page=index&cPath=5&zenid=h5j269ddvrfmqhg6m9alsj1mk3.
Bernhardt Winery: TBA
Colony Cellars: Sausage Kolache with Smooth Texas Red
Cork This! Winery: Cold boiled shrimp, with cream cheese and peach jelly, paired with 2009 Blonde, a December release Sauvignon Blanc.
Messina Hof Winery & Resort: Gewurztraminer Raspberry Chipotle Cream Cheese Ball served with crackers & paired with Merrill's Vineyard Riesling
Pleasant Hill Winery: Ceviche, paired with 2008 Sauvignon Blanc.
Retreat Hill Winery & Vineyard: Slow-smoked pork tenderloin, rubbed with Sandy Oaks Orchards Extra Virgin Arbequina & Arbosana Olive Oil, Spiceburst Gourmet Garlic Saltburst and rosemary, paired with 2009 Retreat Hill Blazin' Blush, a Texas White Zinfandel.
Windy Winery: Italian, Mexican and Christmas Wine Cookies, paired with Independence, a Pinot Noir/Merlot blend.
Complete list of wineries and Bluebonnet Trail details are available at: http://www.texasbluebonnetwinetrail.com/
A frosty yahoo to Y'all!
Below: Texas Muscat with Houston 2009 Snow