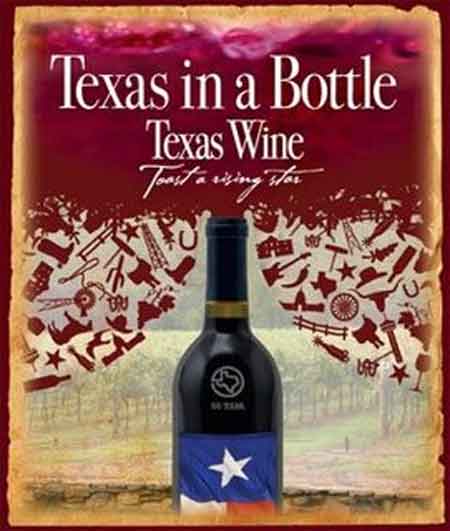 It's October. It's Texas Wine Month. Join in the Fun!
TEXAS HILL COUNTRY WINERIES TEXAS WINE MONTH TRAIL
October 1-31, 2009
The heat is declining, school is in and October is almost here. That means it's Texas Wine Month in the State of Texas and an opportunity for all to celebrate wine for an entire month! To mark the occasion, Texas Hill Country Wineries is hosting the Texas Wine Month Trail.
No need to cram your winery trips into one or two weekends this month, you'll have 31 days to explore, savor and relish in the beauty and excellence of the wineries of the Hill Country.  With 24 participating wineries there is an endless combination of day trips for you, your family and friends. Texas Wine Month is about showcasing the wines of the 24 wineries in the Texas Hill Country. With your Trail ticket, each participating winery will offer a minimum of 1 and up to 3 complimentary tastes of wine.
The Texas Wine Month ticket acts as a Golden Ticket for trail patrons again this year! Texas Hill Country Wineries has partnered with local restaurants, hotels, Bed and Breakfasts and wine shops to give you more opportunities along the trail. Each business has provided a special discount or complimentary offer to trail ticket holders only. In addition to the Golden Ticket offers, your ticket will act as entry into the Texas Wine Month raffle and make you eligible to receive the Texas Hill Country Wineries recipe collection.
Our 24 participating wineries have each submitted some of their favorite recipes to share with you. These recipes are either made with or best served with an award-winning wine from each winery. Visit a minimum of 14 wineries and collect stamps from each. This will get you entered into the raffle for 5 wine prizes and the recipe collection will be sent to you.
Ticket cost is $35/person or $60/couple. For additional information on October Wine Month Trail or to purchase tickets, please visit www.TexasWineTrail.com. For more information, please contact: Katy Jane Bothum, Executive Director, T 866.621.9463, C 575.649.9578, kjbothum@gmail.com; www.TexasWineTrail.com.
CELEBRATE TOTALLY TEXAS LOCAL  FLAVORS… 5th Annual Texas Fall Fest & Wine Auction
Friday, October 2 through Sunday, 4, 2009
 
It's almost time for the 5th Annual Texas Fall Fest & Wine Auction where guests can sip and savor Texas' best culinary and wine offerings in the heart of the Texas Hill Country.
 
Texas Wineries will once again host this special weekend beginning Friday, October 2 through Sunday, 4, 2009.
 
The three-day festival kicks-off Friday evening with an engaging "Sunset Stroll" at the Lakeside Pavilion, in downtown Marble Falls, that offers an exciting evening of wine-ing and dining with the Hill Country's star chefs, restaurateurs, and, of course, the stellar wines of Texas Winemakers, at only $40/person or $35 for TWGGA members.
 
The Texas Fall Fest continues Saturday night with "Cellaring the Best" Dinner & Wine Auction featuring Celebrity Chef Jaimie Gutierre, III Forks Restaurant in Austin, serving a three-course seated dinner with sizzling steaks right off the grill, paired with outstanding Texas wines,  at Spicewood Vineyards' new Event Center, Spicewood, Texas, at $75/person or $70/TWGGA member, all inclusive.
 
The delicious evening will include a silent and live wine auction, along with some surprise entertainment to keep guests entertained. Large Format bottles, rare and old vintages, as well as special event dining/travel packages, will be up for auction during this culinary event.
 
The Sunday "Farm to Table Wine Fair", featuring all things locally grown, hosted at Fall Creek Vineyards, Tow, Texas, at $15/person, 12noon to 4:00pm, will be an entertaining finale to the spectacular wine and food offered during this weekend's events. 
 
"Beefin' it up with Chef Brian Olenjack" will treat guests to a lively time, hootin' and hollerin' with Chef Olenjack of Olenjack's Grille in Arlington Texas, as he demonstrates grilling techniques.
 
Tiffany Collins of the Texas Beef Council and "Miss Jane" Nickles, of the Texas Culinary Academy,  will join in on the fun and provide entertaining education on the art of wine & food pairing.
 
Fair goers will peruse the big tent of vendors presenting for purchase their locally grown/produced olive oils, meats, produce, chocolates, breads, and all things fresh, complimented by the best Texas wines, available by the taste, glass or bottles. 
 
The $15 gate fee includes a Go Texan Wine tasting glass for you to take home, 10 taste tickets for wine, and Chef Olenjack's "Beefin' it Up" demo. 
 
Tiffany Collins and "Miss Jane" Nickles will educate and entertain attendees with "Umami 2Mami", a wine and food class not to be missed, $5/person and can be purchased at event.
 A complete weekend pass to all events is available for only $125/person or $110/TWGGA member.  
For more information on the weekend pass and individual event ticket sales, please visit www.texasfallfest.com or call the Texas Wine & Grape Growers Association at 817-424-0570.