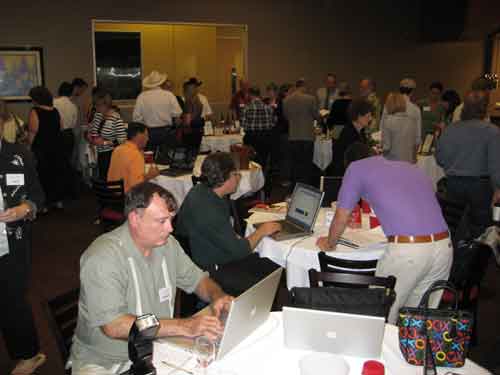 Texas Twitter Taste-Off: Taste, Tweet, Repeat – 200,000 times!
And More Winners (Silver Award Wines)
I can't take credit for the line "Taste, Tweet, Repeat", but those were the instructions I gave to the assembled group of wine writers, bloggers and aficionados at the start of the first Texas Twitter Taste-Off held in Dallas this past weekend under the auspices of the GO TEXAN Drinklocalwine.com Conference (www.drinklocalwine.com).
A total of 69 people participated in the event either in real live flesh and blood or virtually by following, monitoring and retweeting the Twitter feeds from the invited media and guests from around the country that included:
Terry Thompson Anderson, The Food and Wine Gourmet (TX)
Harold Baer, Colorado Wine Report (CO)
Jay Bileti, Arizona Vines & Wines (AZ)
Amy Culbertson, 360 West Magazine (TX)
Jessica Dupuy, Texas Monthly and Dupuy Dish (TX)
John Griffin, SavorSA and San Antonio Express-News (TX)
Gil Kulers, Atlanta Journal-Constitution and Wine Kulers (GA)
Richard Leahy, Vineyard and Winery Management and Richard Leahy's Wine Report (NY)
Wes Marshall, Appellation America (TX)
Nancy Nichols, D Magazine (TX)
Jane Nickles, WineSpeak 101 and wine educator at Texas Culinary Academy (TX)
Lisa Petty, Dallas Observer and Channel 5 (TX – DFW NBC affiliate)
Kim Pierce, Dallas Morning News and Decanter (TX)
Joe Pollack, St. Louis Eats & Drinks (MO)
Terry and Kathy Sullivan, Wine Trail Traveler (MD)
Mike Wangbickler, Caveman Wines (CA)
Russ Kane, Vintage Texas (TX)
I spent yesterday monitoring, evaluating and spreadsheeting the stats on the Twitter feed tallied on www.search.twitter.com. This was relatively easy as the instructions to the group of tasters were to include #DLW09 in their Tweets. It's a hashtag (www.hashtag.org) that makes comments posted on Twitter searchable and thus more accessible. The surprise to me was how big the event actually was. My preliminary analysis (that only looked at tweets marked with "DLW09" from last Wednesday through Sunday morning) indicated that 69 people twittered, many of which were tasters. However, when you include the people following the tweeters and retweeters, the number of impressions on the Internet about Texas wines and wineries for the event totaled more than 200,000. That is incredible since in this day and age, a decent regional foodie magazine will only deliver 10,000 to 20,000 impressions per issue.
Gold AND Silver Award Winners
As mentioned on Sunday, the winning wines from the events (Gold Awards) were:
Best White Wine – Dry division
Flat Creek Estate (www.flatcreekestate.com) Pinot Blanc (Texas Hill Country) 2008
Best White Wine – Sweet division
Haak Vineyards & Winery (www.haakwine.com) Madeira Blanc du Bois (Texas) 2006
Best Red Wine – Dry division
Inwood Estate Vineyards (www.inwoodwines.com) Tempranillo Cabernet blend (Texas High Plains) 2005
Best Red Wine – Sweet division
Sandstone Cellars IV (www.sandstonecellarswinery.com) Red Port-style wine (Mason County Texas) 2006
We were going so fast a furiously at the end of the Twitter Taste-Off, we forgot to present the Silver Awards. So, I also want to acknowledge the following Silver Awards that in some cases were only second by a single vote (still a very credible showing):
White Wine – Dry division
Llano Estacado (www.llanowine.com) Viviana, white blend (Texas) 2008
White Wine – Sweet division
Texas Hills Vineyard (www.texashillsvineyard.com) Orange Muscato, Newsom Vineyard (Texas High Plains) 2005
Red Wine – Dry division
Inwood Estate Vineyards (www.inwoodwines.com) Magellan, Bordeaux blend w/Tempranillo (Texas) 2006
Red Wine – Sweet division
Landon Winery (www.landonwinery.com) Grand Finale Texas Tawny (Texas High Plains) 2002
Plaques will be presented to the Gold Award winners and framed certificates will be delivered to the Silver Award winners.
How to find the Taste-Off Twitter Traffic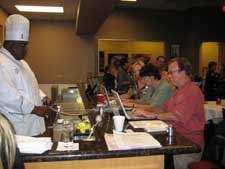 For those of you that did not attend, I suggest searching the twitter feed (www.search.twitter.com) using the hashtag "DLW09". You will get some very interesting leads on new wines to try. See below for selected highlights:
http://twitpic.com/dwk4n "Let the tasting begin at the Drink Local Wine Conference and TX Twitter Taste-Off" – This was my Tweet to officially start the tasting and it included my first TwitPic (check out the link).
"Sandstone Cellars – Red Blend VI – fantastic fruity red blend….young and lively, just the way Miss Jane likes 'em." – From the unmistakable Miss Jane Nickels.
"Cap Rock Viognier: floral, honeysuckle, tropical fruits with a smooth finish" – The 140 characters in a Tweet is more than enough to convey wine characteristics
"On to the sweets: Haak Madeira, nutty, unctuous, full of buttery flavors. Yum." – Same here. I can almost taste the wine myself from this description.
"TexasHillsVineyardOrangeMuscato14%alc$17.50pairw/dkchocolateraspberriescitrusnotes of orange,sweet art. http://bit.ly/LU98E" – This guy's got twittering down to a science. Use every one of the 140 characters, no spaces, including a link to an article about the winery.
"LaBodegaPrivateReserveMerlot2006$24.99 dry, dark purple color earthy aroma and heavy tannins" – Again short and to the point, a good trait in wine writing and regimented by Twitter's 140 character limit.
"Twitter Taste Off best surprise in White category: Flat Creek Pinot Blanc. Peaches. Green Apples… Yum" – Seems that "Yum" is somebody's tag line.
"On to reds…. McPherson Sangiovese, how I love thee… And I'm digging the Brennan Cab Sav…" – Near the end of the Twitter Taste-Off some were getting it down to a science….Sip. Sip. Two wines at a time then tweet!
"San Martino Cab – Sweet cherry/currant nose. Medium bodied, similar flavors, medium finish. Nice." – Got it all in 140 characters.
The Look and Feel of the Texas Twitter Taste-Off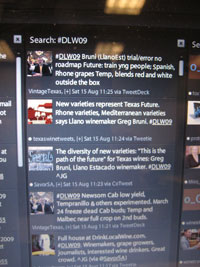 It was basically like speed dating for consenting wineophiles. To get more of the look and feel of the Texas Twitter Taste-Off check out the following TwitPics and linked blog photos:
Twitter Taste Off Photos – http://bit.ly/I06j5
A shaky photo of pourers from the Grapevine Wine Pouring Society from my phone camera – http://twitpic.com/e0yc1
Live Blogging at the Texas Twitter Taste-Off – http://twitpic.com/e0ttc
My TwitPic Calling for the Taste-Off Vote – http://twitpic.com/e0yjh
Wine Blogging – Live and After the Fact
Some bloggers at the Conference portion of event found the time to live blog about important issues to local wine and Texas wine movements and post information about previous visits to Texas wineries:
A Challenge for the Drink Local Wine Movement – http://bit.ly/1zxP3k
The Grape Varieties that Grow Well in Texas – http://bit.ly/4vUQCJ
Reference to a previous winery visit – http://winetrailtraveler.com/texas/texashills.php
Dallas Morning News: Four winners at Texas Twitter Taste-Off –  http://eatsblog.dallasnews.com/archives/2009/08/four-winners-at-texas-twitter.html
Washington Post: Swirling, Sipping and Tweeting –
http://voices.washingtonpost.com/all-we-can-eat/wine/swirling-sipping-and-tweeting.html
So much Fun is Contagious –
http://www.drinklocalwine.com/drinklocalwinecom-conference-so-much-fun-its-contagious.html
Examiner Bio Wine tasting: Observe, Smell, Taste and Tweet –
http://www.examiner.com/x-11860-Baltimore-Wine-Travel-Examiner~y2009m8d18-Wine-tasting-observe-smell-taste-and-tweet
 
The participating wineries in the taste-off included: Alamosa Wine Cellars, Llano Estacado, Haak Vineyards, Sandstone Cellars, Inwood Estates Vineyards, Sunset Winery, Texas Hills Vineyard, Messina Hof Winery and Resort, Fall Creek Vineyards, Landon Winery, La Buena Vida Winery, La Bodega, Brennan Vineyards, Los Pinos Ranch Vineyards, McPherson Cellars, San Martino Winery & Vineyards, LightCatcher Winery, Becker Vineyards, Times Ten Cellars, Flat Creek Estate, Tara Vineyards, CapRock Winery, La Buena Vida Winery – Springtown. Our thanks go to this very trusting group of wineries that allowed us to taste and tweet about their wines. Find their links and links for most Texas wineries at: http://www.gotexanwine.org/findwinesandwineries. 
All this twittering and tweeting might not all make sense to all of you yet, but Twitter and other social networking sites may play a role in helping to get the word out on how good Texas and other local wines have become (bypassing the conventional gatekeepers in the mainstream wine media). It is also a good way for wine and/or winery groups to stay in touch if managed correctly. Check out a free piece of software that can assist you with this at: http://tweetdeck.com/beta/. I highly recommend TweetDeck as it has made it easier for me to manage my incoming and outgoing activities on Twitter ( tweets, friends, mentions and updating searches. From the looks of it, TweetDeck was also the platform of choice for the participants in the Texas Twitter Taste-Off.
Special Thanks
I want to give a special shout out to the TDA Go Texan program (www.gotexanwine.org) for its support of this inaugural local wine event that brought it to Texas. The DrinkLocalWine.com event will move on to another region next year, but we can still have more Texas Twitter Tastings in the future. Thanks also need to go to Denise Frasier and the people at Tate Austin Hahn for their hard work and behind the scenes activity that ensured the events success. Additionally, we received additional financial support for the Taste-off from the Wine Society of Texas (www.winesocietyoftexas.org) and some last minute pouring support from the Grapevine Wine Pouring Society (http://www.grapevinewinepouringsociety.org). Last but not least, everyone at Le Cordon Bleu Institute (www.chefs.edu/dallas) did a great job on all counts with food preparation, room set-up and most of all working wireless network coverage (with a second 3G network provided by Jeff Siegel).
Just in Case You Missed My Previous Posts on This Event
GO TEXAN DrinkLocalWine.com Texas Twitter Taste-Off Winners; The byline for the blog today is "Syrah between my keys"…. https://vintagetexas.com/?p=1076
Let the Tasting Begin at the Drink Local Wine Conference and Twitter Taste Off  (#DLW09) – https://vintagetexas.com/?p=1072
More to Come in a Subsequent VintageTexas Blog
Ten Things I Learned at the Drink Local Wine and the Texas Sommeliers Conferences.
Enjoy,
Russ