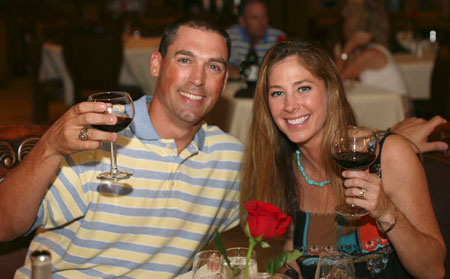 Kiepersol Estates Vintner's Dinner Featuring The Wineslinger Chronicles
Join us at Kiepersol Estates in the East Texas piney woods near Tyler, Texas, for a five-course gourmet dinner with author Russ Kane from VintageTexas – a.k.a. Doc Russ, Texas Wineslinger – featuring readings from his newly published book:
The Wineslinger Chronicles: Texas on the Vine
Each of the meal's five courses will be expertly paired with a delightful Kiepersol Estate wine presented by Kiepersol winemaker Marnelle Durrette who will discuss the wines while Russ provides short enjoyable and reflective readings from The Wineslinger Chronicles highlighting his travels, meet-ups and tastings around the state. This special event will be hosted at Kiepersol Estates B&B at 7:00 pm on Wednesday, September 12th, 2012. For reservations, call 903.894.3300; email: bed_and_breakfast@kiepersol.com. Seating is limited. Click here for address and click here for prices that include a personalized and autographed copy of The Wineslinger Chronicles.
MENU
Duck Crostinis
Kiepersol Vit
Texas Shiner Bock Cheese Soup with Smoky Bacon
Kiepersol Viognier

Iceberg Wedge Salad with Chipotle Ranch and Grilled Peaches
KE Bushman's Vitzin

Filet Mignon topped with Shrimp and Cabernet Barbeque Sauce
Kiepersol Cabernet Sauvignon

Home-Style Bread Pudding with Cognac Caramel Sauce
Kiepersol Port
Russ's book, The Wineslinger Chronicles, has received critical worldwide acclaim for its literary, historical and engaging treatment of the Texas wine experience starting with its beginnings near El Paso in the 1660s, the period of emigrant farmer/winemakers the 1880's, and its growth into a modern wine region in just the past 30 years. Readers have said that Russ's stories made them feel like they were there in person to experience memorable events, talk with great people, and taste internationally award-winning wines that have made Texas the fifth-largest wine producing state in America.
— — — — —
"Doc Russ is the kind of guy who can mix blues, barbecue, and Barbera in a truly Texan way, and as he writes I can smell the mesquite smoke, hear the wailing  guitar and chew the High Plains ripe red fruit. Right on Russ!" —Oz Clarke, author of Pocket Wine Book and 250 Best Wines Wine Buying Guide
"With wine now made in all fifty states, the gift of the gods is on the way to becoming a national drink. In The Wineslinger Chronicles, Russ Kane tells the tale of Texas wine in an educational, friendly style. . . . So sit back and enjoy both Texas wines and Kane's book." —George M. Taber, author of Judgment of Paris
— — — — —
Click here for chapter highlights from The Wineslinger Chronicles. I hope to meet you and share a bite, a taste and a true Texas story at Kiepersol Estates on Wednesday, September 12, 2012.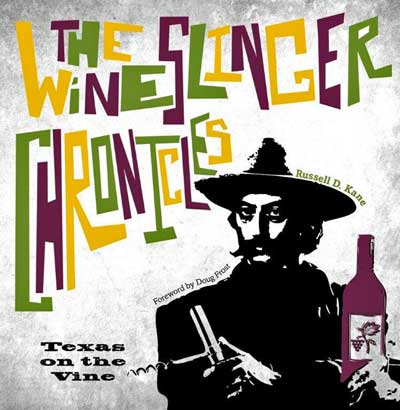 Russell D. Kane divides his time between Houston and Fredericksburg, Texas. A technical writer whose research spans three decades and has garnered two awards for writing excellence, he has covered Texas wines and cuisine since 1998 and now blogs on the subject of Texas wine at VintageTexas.com and writes a weekly column (Texas Wineslinger) in the Lubbock Avalanche Journal and lubbockonline.com.