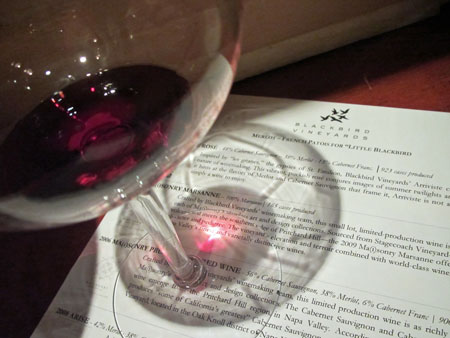 When is Merlot a Serious Grape?  At Blackbird Vineyards
I received a late invite to a wine tasting scheduled for yesterday evening, I believe, at least in part because an accolade I received recently on Jeremy Parzen's Tasting Notes blog in The Houston Press website:
— — — — —
Vintage Texas: Top Texas wine blogger Russ Kane may be based in Houston, but, man, this dude gets around. His blog is always our No. 1 go-to resource for wine events happening around the state. Yesterday he posted a round-up of the many great tasting opportunities and competitions that will take place this summer in the Lone Star State. Go TEXAN, go thirsty! Love it. Tasting Notes by Jeremy Parzen
— — — — —
While I spend a lot of time roaming Texas for quality wine experiences, I quite often partake in the grand fermented juice of other regions, particularly those that offer my palate a bit of introspection and recalibration. Because I taste so much Texas wine, I want to be sure that I'm not getting what is often referred to as "Cellar Palate" that sometimes inflects winemakers that only taste their own wines. This "recalibration" gives me the chance to taste quality wines from around the world so that I can honestly taste our local Texas wines in a fare and honest manner.
I have to admit that after accepting the invitation and searching the Blackbird Vineyards website, I had a momentary hesitation. Why? Well, because their claim to fame is based, to a large extent, on the now often maligned grape variety: MERLOT. By now, we've all seen or heard of  Paul Giamatti's character, Miles, in the movie Sideways as he speaks fondly of the red wine varietal Pinot Noir, while denigrating Merlot as an insipid, simpleminded wine of questionable character and value (see: http://youtu.be/joR6Y6Oy9wE). Following the film's U.S. release in October 2004, Merlot sales dropped while Pinot Noir sales soared.
However, I took a look at Blackbird Vineyards primary location in California's Napa Valley [Oak Knoll District of Napa Valley AVA] and gave the whole question of quality California Merlot-based wines another thought. Why? Because, of its climate, soil and all elements of what we call terroir.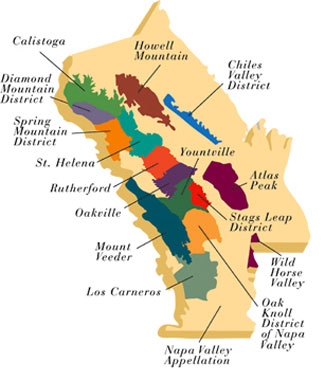 Climate: Moderate to cool: marine air and fog can remain until mid-morning. Late afternoon breezes frequently occur, maintaining slightly cooler temperatures than upper valley. Mid-summer temperatures may reach 92° F (33.3°C) and drop to around 50°F (10°C) at night, elevation: sea level to 800 feet (244m); rainfall: 36 inches (90cm) annually; soils: The valley's largest alluvial fan formed by Dry Creek creates the defining feature of the district. The northwest area is composed of volcanically derived soils, with stony or gravelly consistency. South and east areas are transitional from gravel to silty clay loam. In this area Merlot especially benefits from a longer growing season with slightly cooler temperatures, though crop size is typically less than in other AVAs. Elegant style is a common note often cited for Oak Knoll wines. What better place could you to find [other than the right bank of the French Gironde River, say around Saint-Emilion or Lalande-Pomerol] where classy Merlot reside in abundence.
The tasting was held at Flemmings Steak House near River Oak in downtown Houston (only a hop, skip and jump froms my humble abode)…very convenient. As I entered the room, several people were being addressed by Blackbird Vineyards President, Paul  Leary.  Smooth talking and friendly, he started us out on his summertime quaff, Blackbird 2010 Arriviste Rosé, a dry, light and minerally pink wine made in cassic French style.
We moved on to two wines from one of Blackbird Vineyards sister wineries: 2009 Maisonry Marsanne and 2006 Maisonry Propietary Red Wine, both were likewise fitting the warm summer session and as palate warmer-upers to the featured performers of the night. The Marsanne, was soft and creamy and only lightly aromatic, showing its long known role in the Rhone Valley of France as a blending grape used to provide the underpinnings of white Rhone wines with a weighty and silky mouthfeel.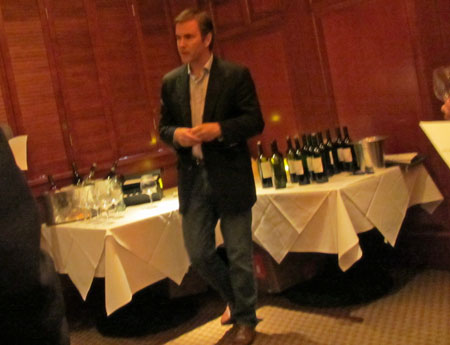 As we proceed to taste two Blackbird Vineyards Merlot-dominant red blends (2008 Arise and flagship wine 2008 Illustration), the inherent beauty of Merlot was on display. The best and simplest description for these wines I came up with yesterday evening was "smoky silky lusciousness" with the 2008 Illustration being noticably sturdier and perhaps intended to be the more age worthy wine.
At the end, I nearly missed getting my small allocation of the Blackbird Vineyards 2008 Contrarian as the winery only packed a single bottle that we all hard to share. This wine with its near equal portions of Merlot, Cabernet Franc and Cabernet Sauvignon was a bit more restrained in its early life than the Illustration, likely due to its higher percentage of Cabernet Sauvignon (27% versus only 2% in the Illustration). We were encouraged to wait another 5, 10 or 15 years for the final product.
All in all, the Blackbird Vineyards wines show a great statement for American Merlot. The tasting also showed that Napa Valley wines don't always have to be overripe, over-extracted and highly alcoholic. In contrast, these wines offered a more "terroir-driven" rather than "fruit-driven" wine tasting experience with complexity and sophistication that are the hallmark of what Merlot should really be.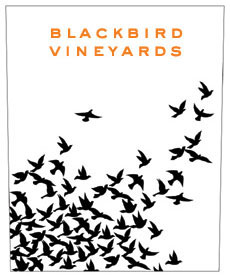 — — — — —
Word to Texas winemakers: If you think you are making a world-class Merlot. Give Blackbird Arise or Illustration wines at $50-90 a bottle a taste. Their wines are made in a stye that we likely can't emulate here in Texas due to our higher ambient temperatures and shorter growing season. Blackbird's Merlot-based wines are not like the super-ripe, highly extracted, fruit bomb (Duckhorn Merlot) that you may have previously tasted and envied. Blackbird's Merlot-based wines are more like I've tasted in France.
— — — — —
Another kind of Blackbird