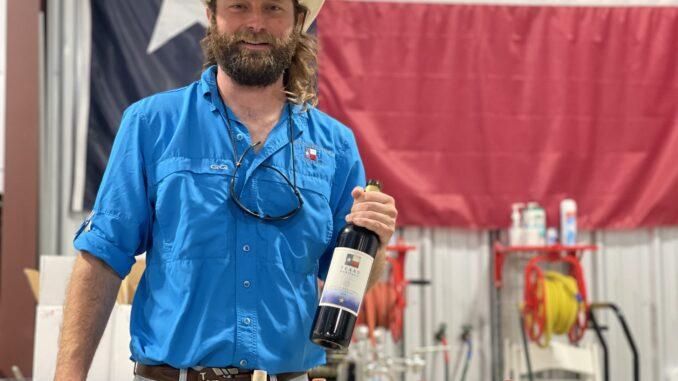 Photo credits: Big Thrist Marketing, Texas Heritage Vineyards & VintageTexas.com
I recently attended a Zoom tasting organized by Matt McGinnis at Big Thirst Marketing where one of the wines was made from what I consider the "Noir de Noir" of red wine grapes – Alicante Bouchet. They were grown and made into wine at Texas Heritage Vineyards (THV) located in Fredericksburg, Texas. To understand why I used the "Noir de Noir" moniker for this wine please listen up.
Alicante Bouschet is certainly not one of the wines that California taught us Americans to drink in the 60s, 70s and 80s (like Cabernet, Merlot, and Pinot). However, some Alicante very likely found its way into many of these California reds that unknowingn Texans and American regularly drink and enjoy. OK, it time to enjoy a full dose of unadulterated Alicante Bouschet from Texas.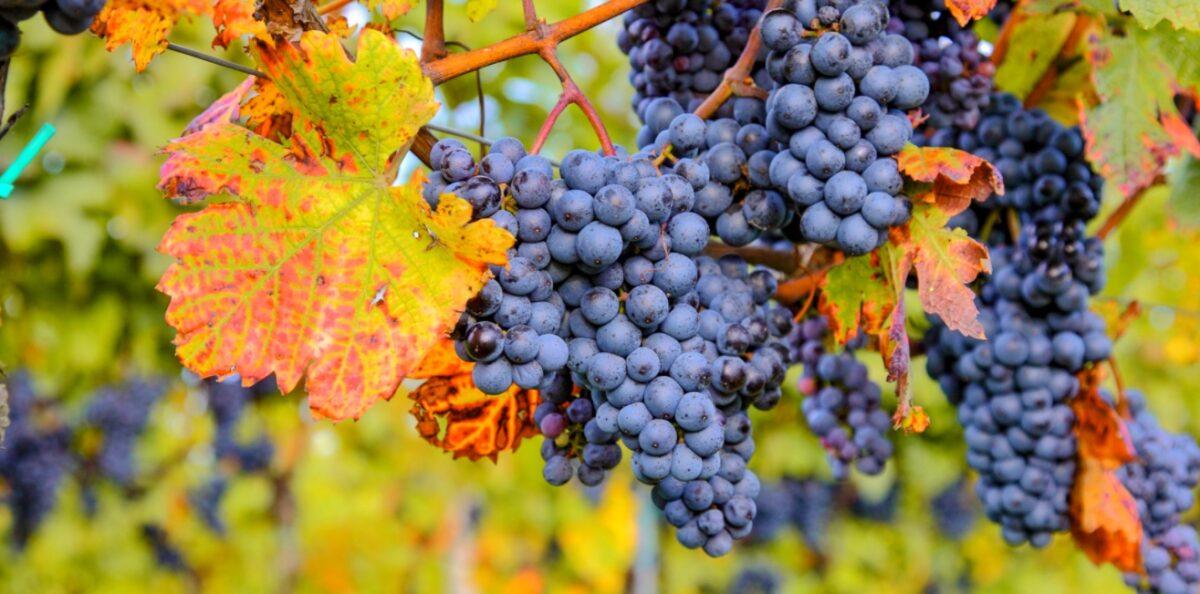 Texas Heritage Vineyards 2019 Estate Alicante Bouschet (Texas Hill Country AVA)
This THV tasting highlighted why Alicante has special attributes while "under the radar" as a blender in many red wines, but can flourish as a varietal wine, as well. Why? Because, it is deep, dark, bold and inky with red wine goodness.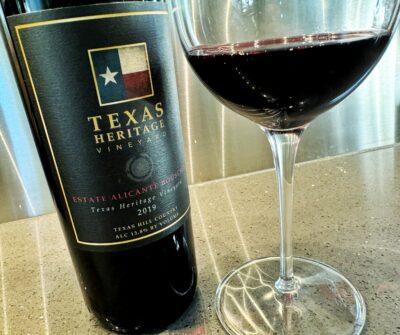 This wine offers jammy blackberries with other dark fruits like black raspberry riding along with it. Alicante also brings dark chocolate, baking spice, and vanilla bean. According to THV winemaker Tyler Buddemeyer, his Estate Alicante Buschet also gets its special electricity from "time spent… 31 months in all… in a combination of French and American neutral oak and about 33% new American oak".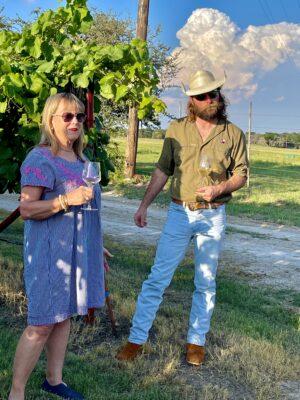 This wine has received its share of critical acclaim, too. It was Texas Class Champion in the 2022 San Antonio Stock Show & Rodeo, Reserve Texas Class Champion in the 2022 Houston Rodeo Uncorked International wine competition, and Double Gold – 2021 Harvest Terroir Challenge.
Now, What Exactly is Alicante Bouschet, Anyway?
It's a hybrid cross of Vitis vinifera Petite Bouchet, itself a cross of two ancient grape varieties, with Grenache. But, most importantly of all, Alicante Bouchet has a special characteristic atypical from most red grape varieties. It is a teinturier grape, a trait it shares with a well known Texas grape, Lenior (aka Black Spainsh).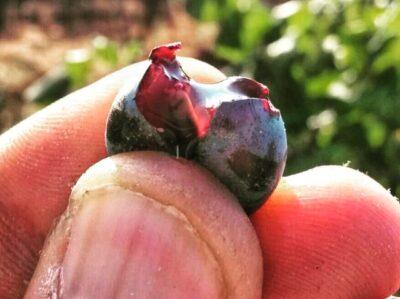 That's great, you say, but why is that important? Well, most red grapes have white juicy pulp inside and gain their red-purple coloration solely from pigments in the grape's skins brought out during maceration, soaking and fermentation. However, teinturier grapes like Alicante Bouschet have red-purple pigments both in their skins and in red pulp inside the grape itself (see above). Thus, my reference to Alicante Bouschet as "Noir de Noir" (translating to 'black-of-black' or 'dark-of-dark') has the ability to offer up its "double-barreled darkness" to make deep, dark red varietal wines like this one from HTV, and also can be added to other red wines to deepen its color.
More on Texas Heritage Vineyards
If you have driven to Fredericksburg coming in from the east on Route 290, you may have driven right past Texas Heritage Vineyards facing 290 from the south side just before you get into town. Their estate vineyard is located nearby just a quick ride south down the Old San Antonio Road. If you find the bat tunnel and nearby burger joint, you've gone too far.
Evidently, THV is a favorite with the Fredericksburg locals who know and have a wide selection of nearby wineries that they can frequent. In my travels domestic and overseas, I always try to eat what the locals eat and drink the same way. This has lead me to some very interesting and worthwhile food and wine experiences. In this case, THV is definitely a local favorite.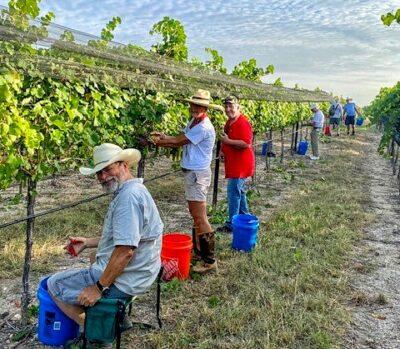 Voted Best Fredericksburg Winery Three Years in a Row!
Texas Heritage Vineyard is a vision realized by owners Billy and Susan Johnson and their daughter Jessica Allen. They dreamed of a family-run winery built with the central theme of honoring Texas heritage. The dream was fulfilled with an exquisite estate vineyard, state-of-the-art winery, and gracious tasting room that has won the hearts of Texans and visitors – voted best Fredericksburg winery three years in a row. They feature 100 percent wines made from Alicante Bouschet, Malbec, Tempranillo, Souzao, Tannat, and Viognier from their nearby estate vineyard, and wines made from grapes contacted from other quality Texas vineyards.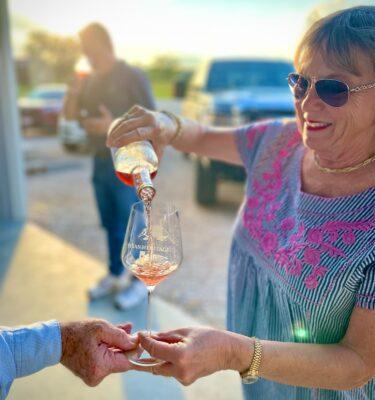 I've been there and enjoyed both the wines and the setting immensely. Give THV a try – located at 3245 US Hwy 290 E, Fredericksburg, TX 78624. Tasting Room Hours: Weekday 12 pm – 5 pm, ​Saturday 10 am – 6 pm, Sunday 12 – 5 pm​.
Individuals and groups use the THV website or call (830) 992-3323 for reservations.