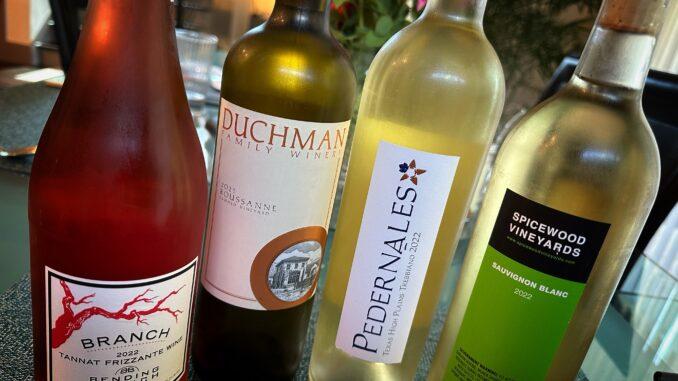 About a week ago, austin-based Denise Clarke and her Texas Fine Wine wineries had another of their quarterly Talk and Taste sessions on Zoom. This one was "Summer Sippers" and offered wine suggestions for quenching our summertime thirst. And, it couldn't have come at a better time as in Houston we are moving into the 100-102 F range and in the hill country temperatures are blazing at 105-107 F… It's bloody hot all over the state, if you ask me. Check out these four "Summer Sippers", a quench from Texas Fine Wine:
Spicewood Vineyards 2022 Sauvignon Blanc, Dell City ($29) – grapefruit, lemon and kiwi – A high desert wine
Spicewood Vineyards is one of the earliest of the modern Texas Hill Country wineries, established in 1992 and purchased by Ron Yates in 2007. It produces estate wines from 32 acres and a nearby 10-acre vineyard in Round Mountain. With a passion for Spanish varieties including Tempranillo, Graciano and Carignan, Spicewood Vineyards is also recognized for its estate Sauvignon Blanc.
This wine was presented by winery owner, Ron Yates. He said, "This is a fun wine. While we are replanting our estate Sauvignon Blanc and making some Picpoule Blanc, we got access to this Sauvignon Blanc from a vineyard in Dell City. It's at an elevation of about 4200 feet and 80 miles north east of El Paso. We are very pleased with the wine that is showing grapefruit, lemon, lime, and kiwi." While it was made in stainless steel tanks without oak, as I recallthere was some lees that gives it a silky rich finish."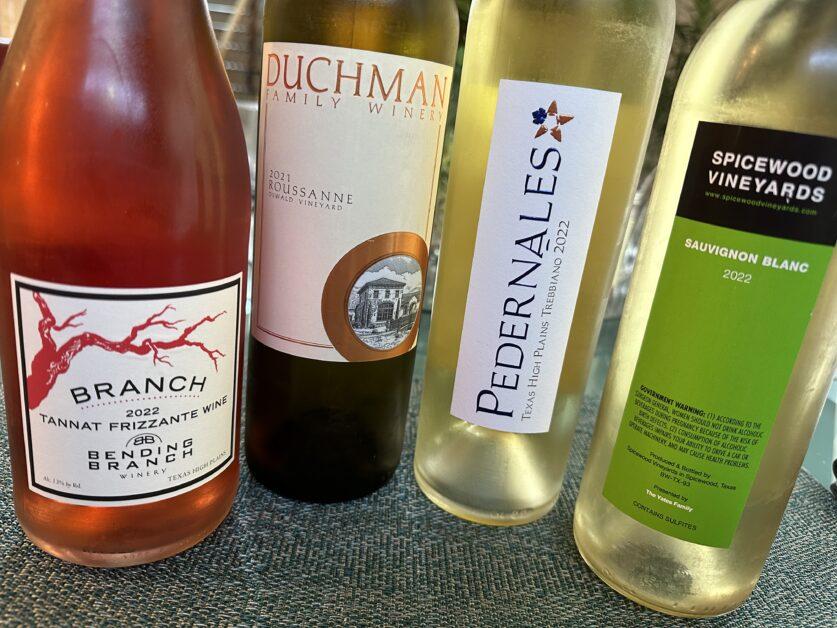 Duchman Family Winery 2021 Roussanne, Oswald Vineyard ($26) – pear, tropical fruit, and lemon citrus – This wine's a keeper for Texas
Working with the top growers in the state, Duchman Family Winery makes 100% Texas wines from carefully selected varieties suited for Texas, including many Italian varieties. Focusing on minimal winemaking intervention and pure expression of fruit and Texas terroir, Duchman wines show precision, character and balance.
Winemaker Dave Reilly commented, "Roussanne came into our life in 2017, but we were a 'Vermentino House', then some growing issues made us lean more on Roussanne in recent vintages. Vermentino will be back, but it will take a few more years. The most important things about Roussanne in Texas is that it has gone through the trials and tribulations of the last few years very well and makes excellent wine."
I commented to Dave was that I thought it as proved itself as a "keeper" for everyone in Texas: growers, winemakers and consumers. This has been one of my favorite Texas white varieties and it only seems to be getting better as more wineries are getting familiar with how to make it right. I've found that white wine drinkers in Texas that are partial to Chardonnay seem to gravitate to it more so than to Viognier.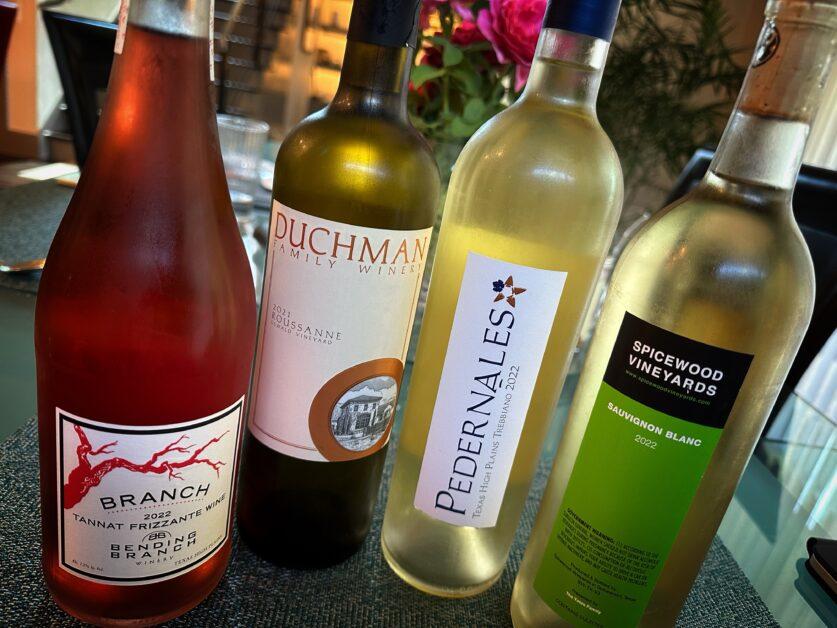 Pedernales Cellars 2022 Texas High Plains Trebbiano ($32) – golden apple, white flowers, brioche – Think Burgundian
Pedernales Cellars is a boutique winery specializing in Spanish and Rhone-style wines made from 100%-sourced fruit. Its owners are sixth-generation Texans dedicated to handcrafted fine wines and sustainable practices. The estate vineyard, Kuhlken Vineyards, was planted in 1995 in Texas' oldest AVA, Bell Mountain, which is within the Texas Hill Country AVA.
Co-owner and executive winemaker Dave Kuhlken presented this wine and admitted that this Trebbiano was a first for his winery. He said, "Most of our history is around Viognier. But in 2022, there really was no Viognier for our wine program, so we went looking for another white grape. We originally passed on Trebbiano because it often seemed to be thin on the fruit flavor and body. But in this wine, I think we found its sweet spot. It was cropped to lower yields and We work a bit more on aromatics in winemaking and on structure with more time of the skins before fermentation."
My perception was that this Trebbiano brings crisp apple and brioche, nuances that yield a wine that was almost Burgundian in character and actually exciting and refreshing to taste.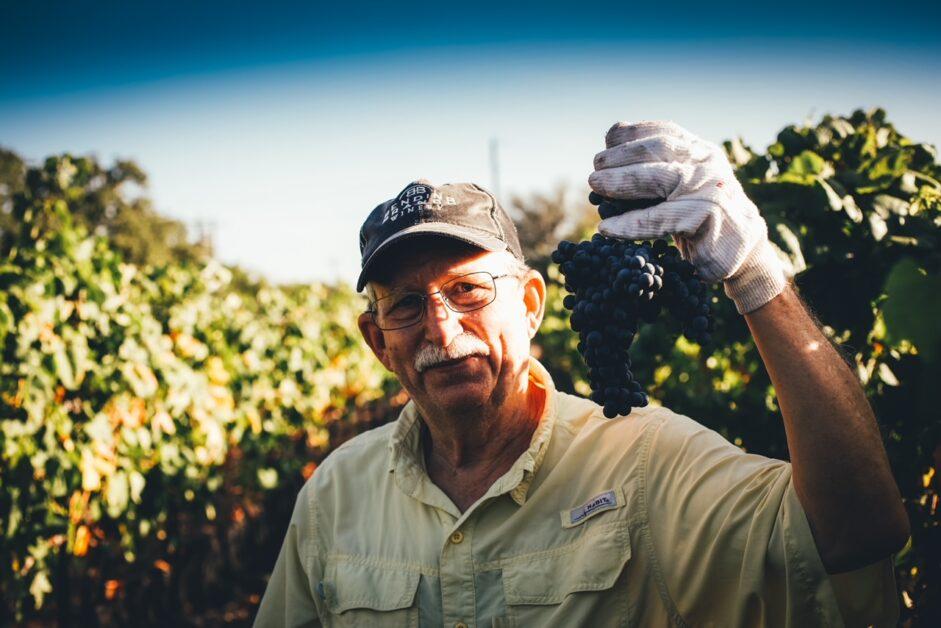 Bending Branch Winery 2022 Tannat Frizzante ($25) – strawberry, white peach, magnolia – A serious and fun wine
Bending Branch Winery is the self-proclaimed "Tannat House of Texas". It forged a reputation for intense wines – from the palate-simulating acidity in Picpoul Blanc to the bold fruit and tannins in their Tannat. The winery was co-founded in 2009 by Winemaker Bob Young, M.D., MPH, and his wife Brenda. Bending Branch uses innovative winemaking processes such as Cryo-Maceration and Flash Détente to improve the color, structure and flavor of red wines.
Jennifer Cernosek from Bending Branch Winery presented the Tannat frizzante (gently sparkling) wine, which is only one of the many Tannat-based wines offered by this winery. She said, "This wine is actually 85% Tannat and 15% Muscat. It is a fun wine and completely food friendly (even with dessert), and also works as a 'greeting" wine. Previously, we made this wine with hill country grapes, but in 2022 it was completely from the Texas high plains.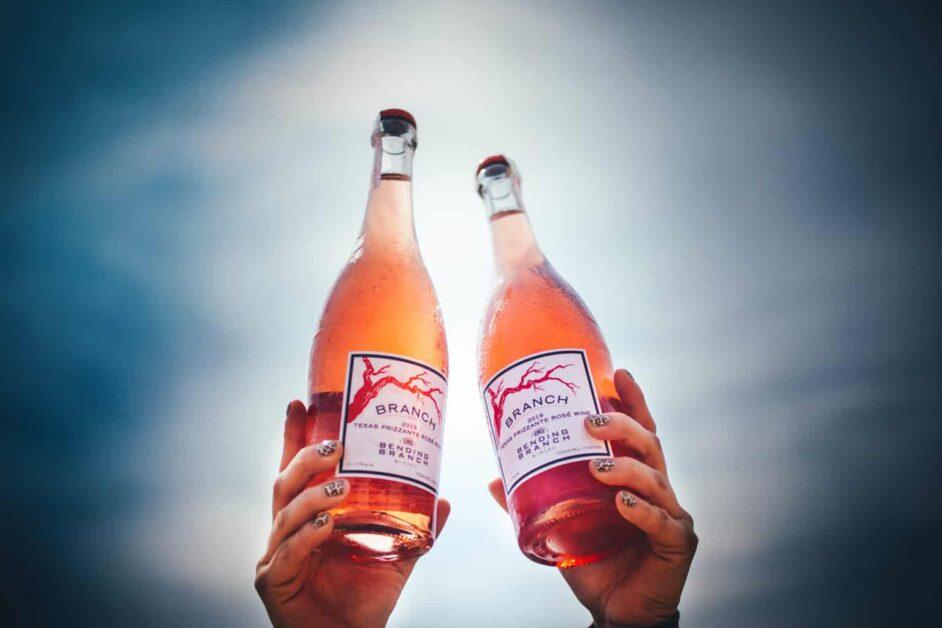 This year, Summer 2023, is going to be with us for a while yet. After all, it's only June and we are already hitting triple-digit temperatures. These are the wines to help us handle the heat. Some of these wines are available in distribution about the state, but all are available in the winery tasting rooms and for purchase on their websites (click links above to find them).
Stay cool my friends, drink Texas Fine Wines!