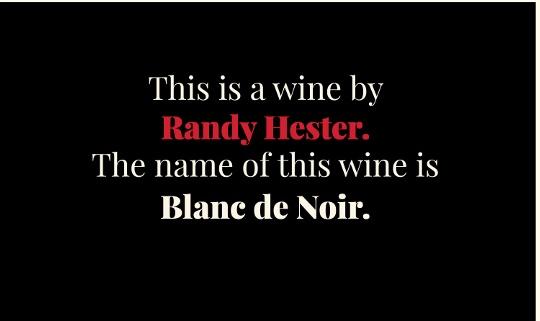 Those of you have know Randy Hester, and his winery C.L. Butaud Wines, realize that he has a penchant for making especially fine wines taking various paths in the process. This wine (his 2021 Blanc de Noir, West Texas) hits the mark, dead center.
First of all, when you hear or read "Blanc de Noir", most of us think of a Champagne or otherwise sparkling white wine made from early harvested Pinot Noir and/or Pinot Meunier. Well, this wine certainly isn't that. I can tell you one thing, "Most of Texas isn't really like Bordeaux or Burgundy, and it sure as hell ain't Champagne… even though at times they do have similarities, but usually at opposite ends of the winegrowing spectrum."
With this wine, Randy is starting out from a completely different direction; think 50% Grenache Noir, 50% Mourvèdre enough to fill six barrels. The Grenache was hand-harvested on September 7, and Mourvèdre was hand-harvested on September 16, 2021. What followed was whole cluster pressing using a long, soft Champagne pressing method, and fermentation to dry with indigenous yeast after about two weeks with aging in tank on the lees for 5 months, no malolactic allowed. It is like a Champagne wine made with no sparkle that came from two acknowledged warm weather grapes.
The Tasting
It was Super Bowl Sunday, late afternoon just before game time. I was with Houston's Dale Robertson, aka "SportyWineGuy", and our wives at Bill Floyd's Porta'Vino restaurant. Bill had a couple of TVs for the game watchers. Just after the singing of the National Anthem with much anticipation on the insuing game, the cork was popped, the wine poured and tasted, and immediately all four of us lost our game-day focus, shifting our complete attention to the wine. That is a lot to ask of a wine, but it was that palate-poppingly good.
The wine had a distinctive presence in the bottle, glass and on the palate. It started with an every intriguing and ever so slight "sepia" tone in the bottle and glass. It delivered crisp acidity, citrus and stone fruit, and even a drop of raspberry, all overlaid on a bed of pleasant minerality on the palate.
Now Comes the Inspiration (aka The Back Story) from Randy
Randy recalls, "During a photo shoot last year, a photographer wanted to talk about "natural wine". After a few minutes of me explaining my dedication to clean, well made wines he suggested a book that I might be interested in called 'La Buvette'."
According to Randy, the book contained numerous recipes and wine notes from a Parisian natural wine shop of the same name. Randy says, "More accurately, it is less a wine shop than it is a refreshment stand, which only adds to its allure. I know this because I visited La Buvette in person in April of 2022!
This book contains stories of friends, mentors, inspirations, and well-made wines, one of which the author described as a still Blanc de Noir, made from southern Languedoc Grenache. Get ready, here comes Randy's inspiration, as he quotes from the book:
"Blanc de noir is a white wine made from a red grape, a technique you see all the time with Pinot Noir and Pinot Meunier in Champagne, where base wines are blended in the creation of a single wine. It is more unusual when a winemaker decides to make a blanc de noir as a still wine.
Here red grapes are gently pressed just until very clear, pale juices run out of the fruit. Since the skin doesn't imprint the red color or tannin from the grapes, the wine expresses the aromatics of the grape, allowing the brightest, purest expression to come through. This is what makes it interesting to me: it's a different way to explore the taste of a grape." 
In the book, the authors went on to say, "There is no true lesson here except for the idea to appreciate and enjoy a rare wine, which may not be around forever." 
Randy summarized, "With that, the idea to make this wine was born. Don't bother trying to nail down tasting notes, just enjoy."
He did "promise" that there is going to be more Blanc de Noir available from the 2022 harvest.