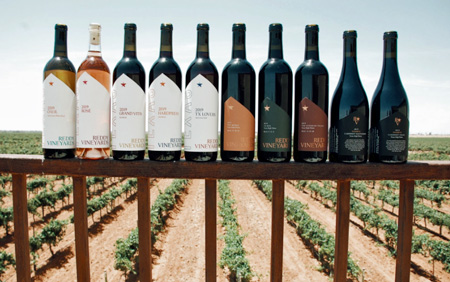 Texas High Plains Vineyard Delivers Authentic Texas Wines Across the Nation
Reddy Vineyards, Texas' pioneers of winemaking, announced today they are now shipping to 40 states across the nation thanks to their partner, Vino Shipper.
"With the help of Vino Shipper, we're now able to share our award-winning Texas varietals with consumers throughout the country," said Akhil Reddy. "Our wines have received national recognition, and we're thrilled we can now ship to our customers who live outside of the state of Texas."
Wine lovers across the nation can now enjoy authentic, 100% estate-grown Texas wines delivered straight to their doorstep. Here it is in short snippets:
WHO: U.S. wine lovers can now enjoy Texas wines, delivered straight to their doorstep
WHAT: Reddy Vineyards now delivers to 40 states across the U.S.
WHEN: Shipping beginning May 2021
WHERE:           Texas wine lovers can purchase wines at www.reddyvineyards.com to be delivered to their front door.
DETAILS: Reddy Vineyards will now ship to states including Pennsylvania, Alabama, Georgia, Iowa, Maryland, Nebraska, North Carolina, South Carolina, Illinois, Alaska, Hawaii, Kansas, Massachusetts, Nevada, North Dakota, Tennessee, West Virginia, New York, Florida, Arizona, Idaho, Louisiana, Minnesota, New Hampshire, Oklahoma, Vermont, Wisconsin, Ohio, Virginia, Colorado, Indiana, Maine, Missouri, New Mexico, Oregon, Washington, and Wyoming. The vineyard currently ships to Texas, California, and Washington DC.