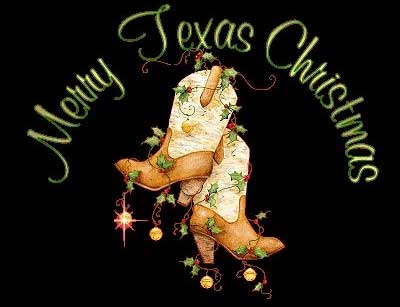 A Merry 2010 Texas Christmas from VintageTexas
Texas is a wonderful place to spend Christmas. If you don't like the weather just wait a day. Today it will be in the seventies and tomorrow the low will be be near freezing. We will spend tomorrow with the family savoring our turkey, three-days brined with salt, brown sugar, chili powder, lemons, oranges, sage, rosemary, thyme all in 1.5 liters Ste. Genevieve Winery's Sweet Muscato and a gallon of apple cider (See brine recipe below).
Turkey Brine Recipe (for 18-20 lb turkey)
1 gallon apple cider
1 cup kosher salt
1 cup dark brown sugar
1/3 cup chili powder
1 large chopped yellow onion
4 bay leaves
1 orange and 2 lemons, quartered
6 garlic cloves, peeled and smashed
1.5 liter bottle Ste. Genevieve Sweet Muscato
— — —
Water to cover turkey (if needed).
Start with cold defrosted turkey
Put turkey inside two white (unscented) trash bags
Place in cooler that already has one bag of ice on bottom
Mix brine thoroughly, pour over turkey
Squeeze air out of bag and tie the top of the bags
Put two more bags of ice around and over turkey
Keep with ice for 2-3 days checking ice daily (add more as necessary)
Remove turkey from brine, rise it and rub it with olive oil
Cook turkey at 325 F (no basting necessary) until cooked thoroughly