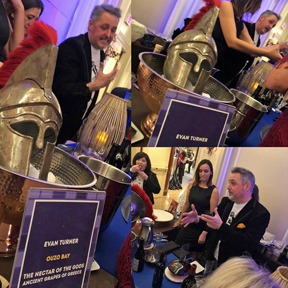 On November 12, Houston's most exciting wine event is going to take place again this year. And, you can be in the room where it happens… for the first time either in-person or virtually via Zoom!
That night, Houston's finest sommeliers will test each other's mettle for the title of IronSommelier in the city's premier wine competition and fundraiser benefiting The Periwinkle Foundation. Each competing sommelier will select three wines that focus on a particular wine region, grape, or style, and a panel of judges will rate wine choice, presentation, creativity, and knowledge of their wine selections.
As an effort to provide a safe and socially-distanced competition, The Periwinkle Foundation will be offering for the first time both virtual and in-person opportunities for guests to experience.
Individual Ticket holders will be provided with a tasting flight of 12 wines to enjoy at home and will have access to the virtual Iron Sommelier judging presentation and live presentations from guest winemakers.
Underwriters will have access to live presentations and interactive conversations with the sommeliers in small private venues or from the comforts of home.
All guests will have access to an exciting wine pull, auction, raffle, and Children's Art sales.
Sommeliers competing in the 2020 competition include:
Farrah Cauley – Sonoma Wine Bar, Adele Corrigan – 13 celsius Wine Bar, Matt Crawford – State of Grace, Julie Dalton – Mastro's Steakhouse, Eric Estefano – Pappas Bros Steakhouse, Marcus Gausepohl – Brennan's, Whitney Seng – The Coronado Club, Lindsay Thomas – River Oaks Country Club, Emily Tolbert – Savoir, Evan Turner – Krasi Meze & Wine, Justin Vann – Public Services Bar and Theodore Rex, and Jeffrey Young – Georgia James.
The competing sommeliers will be judged by our local wine hero Antonio Gianola (Houston Wine Merchant) and Texas Master Sommeliers June Rodil and Craig Collins.
WHERE: Individual Ticket Holders: Live via Zoom
Underwriters: Backstreet Café – (1103 S Shepherd Dr, Houston, TX 77019) OR Hugo's – (1600 Westheimer, Houston, TX 77006)
WHEN: Iron Sommelier 2020 Presented by AUTOSOL®
Thursday, November 12 at 6:30 p.m.
TICKETS: $100 for individual tickets.
For sponsorship and underwriting opportunities, including pricing on access to the Masters Tasting Room and Underwriter Tasting Room, contact Alice Rohrman, arohrman@periwinklefoundation.org.
For more information, visit www.ironsommelier.org or www.periwinklefoundation.org.
ABOUT:
The Periwinkle Foundation develops and provides programs that positively change the lives of children, young adults, and families who are challenged by cancer and other life-threatening illnesses and are cared for at Texas Children's Hospital. Funds raised through Iron Sommelier help support the Periwinkle Camps, Arts and Survivor Programs that serve more than 14,000 children, teens, and families. This is made possible by a collaborative community of 20,000 supporters with a reach of more than 12 million impressions worldwide.