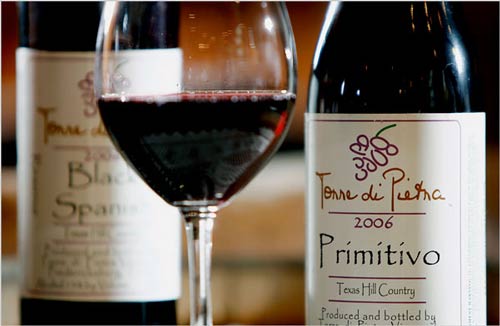 Wines, With Notes of M.B.A. – New York Times Article Features Texas Winery
"From Microchips to Grapevines" in Texas Wine Country
By Kathryn Jones; Published in New York Times – November 28, 2009
Ken and Jenise Maxwell, owners of the Torre di Pietra winery (www.texashillcountrywine.com) between Austin and Fredericksburg in the Texas Hill Country, shifted their careers from microchips to grapevines. They met while working for Intel in Albuquerque, and in 1988 moved to Austin, where Mr. Maxwell continued to work as an executive for several semiconductor businesses and Mrs. Maxwell worked as a software developer.
After growing tired of the corporate grind, the Maxwells planted their first grapes in 2000 with a focus on European varietals and Mediterranean grapes that do well in the warm Texas climate…..
Despite the economic retrenchment and a late spring freeze that hurt their yield this year, they had their first profit. "We're finally past the start-up phase where you have all this investment in equipment," Mrs. Maxwell said.
See complete story at: http://www.nytimes.com/2009/11/29/business/29wine.html?pagewanted=2&_r=1&ref=todayspaper
Photos at:
http://www.nytimes.com/slideshow/2009/11/29/business/1129-WINE_5.html
http://www.nytimes.com/slideshow/2009/11/29/business/1129-WINE_6.html
http://www.nytimes.com/slideshow/2009/11/29/business/1129-WINE_7.html