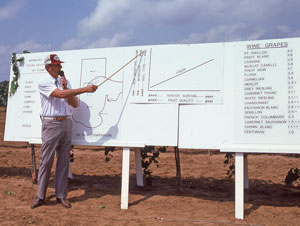 From Neal Newsom… "I just received this from Dr. McEachern, hard to believe."
Hello All, Bill Lipe, Viticulture Scientist at the Texas A&M University Research and Extension Center at Lubbock, Texas (passed away…. details to be learned). He was a pioneer of The New Texas Wine Industry 40 years ago. Dr. Lipe's Grape Variety Research Vineyard at Lubbock was the turning point for the planting of world class varieties such as Cabernet Sauvignon, Chardonnay, Sauvignon Blanc, and Chenin Blanc in Texas. He tested of 100 varieties and demonstrated the finest wines could and should be grown on the Texas High Plains. As we now know, his research vineyard showed Viticulturist's and Texas wine investors the climate, soil, water, and harvest conditions of north Texas was ideal for wine growing. Courtesy of George Ray McEachern.
Texas A&M research on grape growing started in 1909 with a vineyard planted in Lubbock, but was discontinued in the 1930s for lack of interest. William Lipe re-established this important work in 1966 that continued later under Dr. Ed Hellman. Lipe (shown in 1987) is credited for having developed data on hundreds of grape varieties, rootstocks, and vineyard practices under local Texas conditions. Courtesy of Ed Hellman.