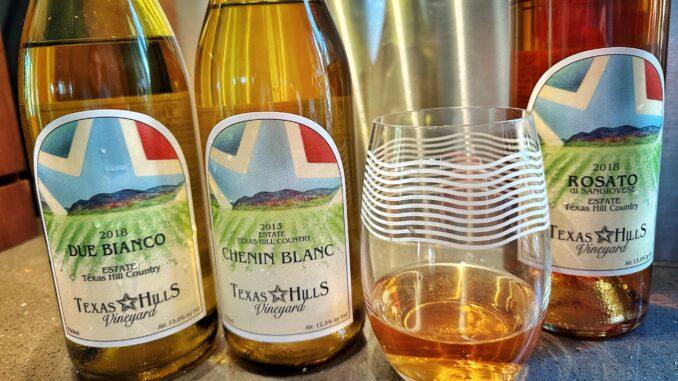 Firstly, let me just say that, Gary and Karen Gilstrap's Texas Hills Vineyard and I go way back to the time I started the VintageTexas blog in 2007 and through my book writing days of 2010-2014. Numerous times while driving in from Houston to Frederickburg, I stopped for gas at the gas station in Johnson City on Route 290/281 and made the immediate right turn onto Robinson Road with a mile marker pointing to Pedernales Falls. I feel that perhaps this is what Gary had in mind when he recently sent me a bottle of his Texas Hills Vineyard 2013 Estate Texas Hill Country Chenin Blanc at ten years "young".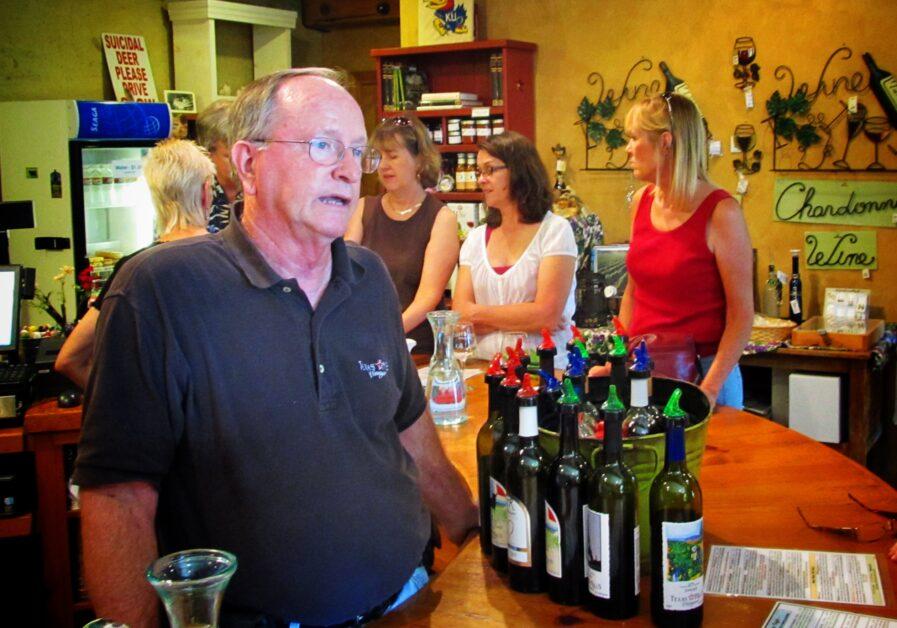 From memory, the Texas Hills Vineyard story as first told to me by Gary Gilstrap was punctuated with this… "We have many hills but only one vineyard." This is how I always remembered that the name of the Gilstrap's winery was Texas Hills Vineyard and was NOT Texas Hill Vineyards.
Texas Hills Vineyard 2013 Estate Texas Hill Country Chenin Blanc
From the vintage date on the bottle, I can tell that this Chenin Blanc is certainly not young anymore. However, from the first sip, I'll testify that it is not showing signs of bottle age other than its rich yellow-straw color. Chenin Blancs like this are very much under appreciated white wines, likely because too many are made sweet trying for mass appeal. But, dry Chenins like this one, are serious wines and seriously good both young and when mature. They can easily age 10 to 20 years in bottle. This one still has its primary tart green apple and green melon notes, adding a bit of butterscotch with age, and still carrying a soft hint of now well-melded oak with chalky minerals on the nose during the approach and on the pallate during the finish.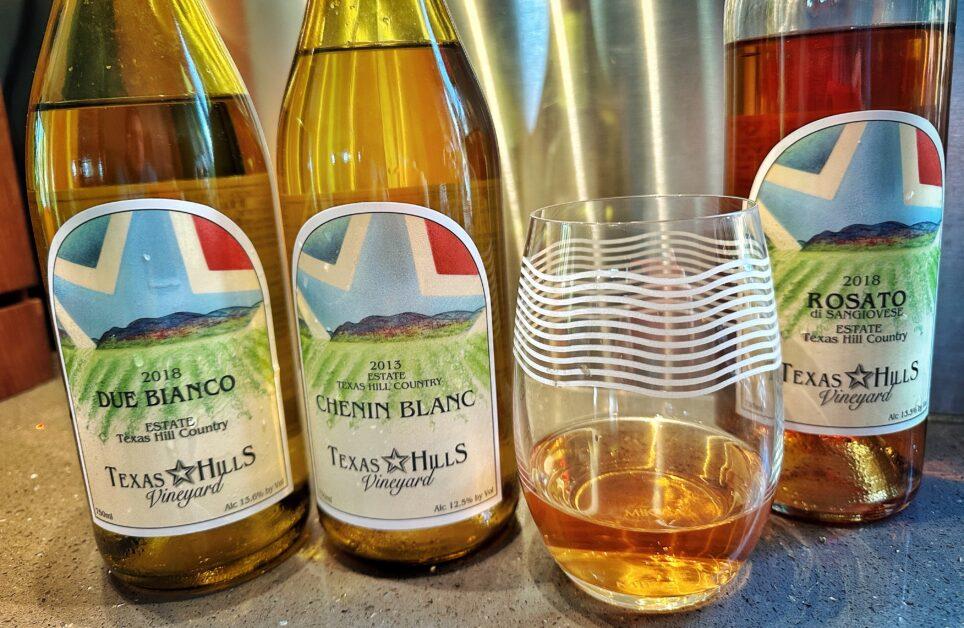 Texas Hills Vineyard 2018 Due Bianco (White Blend), Estate, Texas Hill Country
Gary always liked to say that, during their travels, he and Karen were impressed with the wines of Italy and they had the goal of making Texas wines in a similar style. In this Due Bianco, a blend of Chenin Blanc and Orange Muscato, he reminds us that blended wines are popular in Italy.
In this wine, you really could not have two more different grapes to blend: the apple and melon from the Chenin Blanc, and the floral and citrus aromas from the Muscat that some find a bit over powering. However, in this blended wine, the Chenin and Muscat have found a synergy that takes the imbiber to a different dimension. There, the wine shows a balance of lemon-lime-orange citrus, but held at a comfortable level with the green melon.
Texas Hills Vineyard 2018 Rosato di Sangiovese, Estate, Texas Hill Country
If there is an Italian style for dry Italian rosé, this Texas Hills Vineyard Rosato di Sangiovese hits the mark. It shows a coppery, coral-pink color often found in rosés made from the Sangiovese grape. It follows with tart cherry-cola notes carrying structure from skin tannins and/or time with neutral oak, with minerals galore.
— — — — —
The Texas Hills Vineyard Story
Gary Gilstrap with his wife Kathy started looking for hill country land in 1993. At Texas Hills Vineyard, the Gilstraps started planting their 25-acre estate vineyard in 1995 with a focus on Italian grape varieties. Their labor of love started the old fashioned way with family and friends helping and hand tools. When those failed to break the hard-packed clay loam soil, a tractor with an auger was their go-to grapevine planting tool.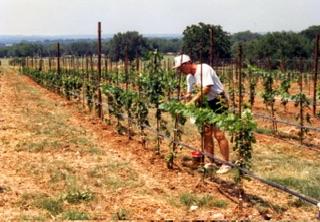 The Gilstraps are also credited along with Grape Creek Vineyards original owner Ned Simes as champions of the Texas Hill Country wine trail, first in the state, from its inception in the mid-1990s.
I remember, Gary talking about their winery at Texas Hills Vineyard and saying, "It was built like an Igloo cooler". It has thick concrete walls with a void space in the middle that were cast in the form of a very thermally efficient Italian villa.
Unless they've changed thing up, the winery is also unique for its lack of oak barrels. Gilstrap makes oaked wines in his stainless steel tanks by carefully metering in oak tannins and use of micro-oxygenation post fermentation to give his wines the lean tannic "Italian Style" he likes.
— — — — —
Wine for Family, Friends and Food
These three wines from Texas Hill Vineyard are a pleasure destined to be savored with food, family and friends in the upcoming Summer season in Texas. Think of accompanying them with fried or baked chicken, BBQ ribs, or simply a ham, cheese and mustard sandwich on seeded rye bread.
As the Gilstrap's say, "We make wine to share with friends. We also strive to make your visit one of the best winery experiences you have ever had. We are proud to serve you our all Texas award winning wines."
If you're in the area of Johnson City, stop in and say hello to the Gilstraps and enjoy their wines. They are located one mile east of Hwy 290/281 on the road to Pedernales State Park. Look for their Lone Star metal gate entrance on the right. Traveling west Texas Hills Vineyard is 7 miles from the park entrance. Stop in for a tasting, a winery tour or just investigate the estate vineyard.
For directions and more information, click here.